Hubway, Boston's new bike sharing public transportation program targeted to launch at 11am on July 28 at City Hall Plaza, lets members ride free for the first 30 minutes. Sign up to be a member for a day, 3 days, or a year, swipe your card to get a bike, and go!
Hubway will provide 610 silver bicycles at 61 bike sharing stations scattered around the city. This initiall rollout will put bikes in areas with the most tourists, workers, and residents, including Downtown Boston, Back Bay, Fenway, the South End, South Boston Waterfront, and other neighborhoods.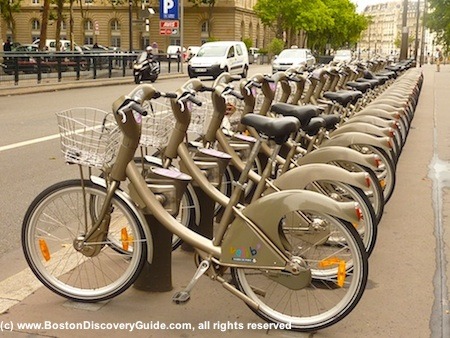 This bike-share station is in Paris - but in July, Hubway will bring similar bike sharing to Boston
Each 41-foot station will have a bicycle rack with slots for 15 bikes, and a solar-powered kiosk where you'll swipe your card - similar to Zipcar. You can pick up a bike at one station and return it to another.
The number of bikes at each station will depend on the location's expected popularity, with South Station getting the most - 47 bikes. Many stations are located about 200-400 yards from each other, as other cities with bike sharing programs find this distance ideal for encouraging usage.
The bike share system's rental rates encourage short-term cycle usage. You can ride free for the first half hour and cheaply for another hour or so - but after that, rates climb steeply, topping out at $100/day.
If you want to explore the city by bike for several hours or a full day, check
Boston bike tours and rentals
to get cheaper rates.
More about Hubway rates
Boston visitors and other infrequent users can choose 24-hour or 3-day "Casual" rates. For residents who plan to use the bikes on an on-going basis, the "Registered" annual membership is a bargain at $85, especially since you also get a 25% discount on rental fees - a sweet deal.
Through the end of July, save even more when you sign up for an annual membership for
only $60.
Hubway Rental and Cost Information
Membership types and rates:
Casual 24-hour - $5 - sign up at kiosk
Casual 3-day - $12 - sign up at kiosk
Registered Annual - must sign up for service on-line - $85 (also gives you a 25% discount on rental fees)
Hubway rental fees (samples):
First 30 minutes or less: Free for both Casual and Registered
30 - 59 minutes: $2 ($1.50 Registered members)
60 - 89 minutes: $6 ($4.50 Registered)
90 - 119 minutes: $14 ($10.50 Registered)
2 - 2.5 hours: $22 ($16.50 Registered))
5 - 5.5 hours: $70 ($52.50 Registered))
7 - 24 hours: $100 ($75 Registered))
Check availability at pick-up locations:
Use the
smart-phone app
(iPhone, BlackBerry, Android); if the station where you want to return your bike is full, you get an extra 15 minutes of free usage to get to the next station.
Become a member and check locations:
Register at
Hubway website
Helmets:
Check the
Hubway website
for a list of locations where you can buy inexpensive helmets.
Even though Hubway targets short-term bicycle usage to fill gaps in the Boston MBTA public transportation system, tourists and other city visitors can use these bikes to travel from attraction to attraction faster than on foot or by T - for example, from Fenway Park to the Museum of Fine Arts.
Boston's Hubway bike share program will operate for 3 seasons, and the bikes and kiosks will be removed and stored during winter months.
Bike share systems have been wildly successful in other cities such as Washington DC, Montreal, and Paris - so now Boston gets its turn, with Cambridge, Somerville, and Brookline to follow in Phase 2 starting in 2012. Ultimately, look for as many as 5,000 bikes and 300 stations throughout the Boston area.
Hubway is part of Mayor Tom Menino's Boston Bikes Program, designed to move the city from being arguably the worst cycling city in the country to one of the best in the world.
First year goals for Hubway are 4,000 members and 100,000 rides - probably far too modest, considering that Washington DC achieved Year 1 results of 11,000 members and 300,000 rides. Surely Boston can beat DC!
Hubway bike station locations for 2011
Likely locations for Hubway's 61 stations are creating lots of buzz, as public and private discussions to finalize plans continue. Latest target locations include:
Downtown - 8 locations
Beacon Hill - 2 locations
North End - 2 locations
West End / Government Center - 4 locations
South Boston Waterfront / Seaport - 3 locations
Back Bay - 9 locations
Bay Village / Park Square - 1 location
Fenway - 8 locations
Longwood Medical Area - 5 locations
South End - 6 locations
Allston - 8 locations
Brighton - 1 location
Roxbury - 2, with more coming soon
Cambridge - coming soon
Somerville - coming soon
For more details, check
Hubway's Station Map.