The carmaker's latest balancing act involves an electric car for urban streets.
Photos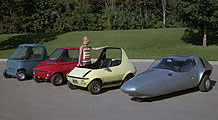 NEW YORK (CNNMoney.com) -- Even as General Motors executives are seriously discussing a recently-unthinkable bankruptcy back in Detroit, others were unveiling an equally implausible prototype for a futuristic personal transportation vehicle in New York City.
Believe it or not, the company best known for riding the SUV wave to the brink of collapse now says it is committed to bringing this small, weird-looking contraption to a city near you. I was among the first to get a chance to ride around in GM and Segway's sole prototype vehicle.
The Personal Urban Mobility and Accessibility, or PUMA, isn't intended to replace cars. It can only travel at speeds up to 35 miles per hour and it has a range of just 35 miles before needing a recharge.
Unlike electric vehicles you can buy today, the PUMA will be able to, essentially, drive itself, GM says. A transmitter inside the vehicle will share moment-by-moment driving information with other vehicles nearby creating a moving network of vehicles that will enable the cars to automatically avoid hitting one another.
Developed in cooperation with Segway, which produces the famous two-wheeled transporter of the same name, the PUMA is intended for use in urban environments where a compact, highly maneuverable vehicle like this could significantly reduce congestion, GM (GM, Fortune 500) said.
First impressions
Getting into the PUMA prototype was a hassle as I wrestled with a complex four-point safety harness that, I assume, will not be on the production vehicle. A technician warned me to gather up the loose ends of my overcoat lest they get caught in the wheel. (In some ways, it reminded of an experience I once had driving a Model T Ford.)
"Close the door" someone yelled and a technician came forward to lower the yellow-and-black safety bar that, for now, passes for a "door."
"Keep your legs loose," the driver warned me.
When in motion, the same sort of automatic balancing technology that holds the Segway personal transporter - commonly called a "scooter" - upright on its two wheels allows the PUMA to do the same with two seated occupants.
During a test ride - for now, only trained drivers are allowed to operate the prototype vehicle - the PUMA transporter felt perfectly stable. Other than the fact that it can rotate while standing in place, it felt similar to riding in a small car at slow speeds.
As he pushed the steering wheel, the vehicle leaned gently forward and trundled off to the end of a blocked off section of Manhattan's West 18th street. When we reached the end of the street, the driver pulled back on the steering wheel and the car stopped, staying balanced on its two wheels. He then turned the wheel rotating the booth-shaped car 180 degrees and off we went in the other direction, steering to avoid hitting our CNN cameraman.
Only when the vehicle prepared to park did it feel a bit unnerving, as the vehicle leaned forward to settle onto its extra set of small front wheels.
The floor slid forward as the PUMA extended its small front wheels to park but I forgot to keep my legs loose. I had to draw them back quickly or I feared getting my toes pinched under the body.
Not quite ready for prime time
GM executives emphasized the this prototype does not represent what the final vehicle will look like. This is essentially the bare frame.
GM designers are already working on various body styles for the vehicles, which could be fully enclosed like other cars. Steering could be done either with a steering wheel, as was on the prototype, or by using a joystick.
The PUMA is the exact opposite of a Hummer, said Larry Burns, GM's vice president for research and development. The Hummer represents "the ultimate in over-engineered personal transportation, " he said. The two seat PUMA, meanwhile, is barely larger than the two occupants themselves who sit side-by-side.
The PUMA rides on just two wheels, one on each side of the vehicle, each powered by a separate electric motor. A pair of small caster-like wheels more out from the front to hold the vehicle up when it's parked. Power comes from lithium-ion batteries.
A key feature, GM executives said, will be a "connected vehicle network" that would allow various types of motor vehicles, not just PUMA transporters, to communicate with one another in a network. This would require each vehicle to have a small transponder device, which Burns said is about the size of today's "smart phones."
The device will allow vehicles to share information with one another regarding the vehicle's own movements as well as alerting nearby vehicles to hazardous road conditions such as an ice patch. The vehicles themselves would also be able to directly sense other hazards, such as pedestrian.
"This is a very polite vehicle," said Burns.
That kind of system, which Burns described as a "mobility Internet," would allow vehicles that are smaller and less crashworthy to ply the roadways along with cars and trucks without fear of a wreck.
The PUMA might make its initial appearance in more controlled environments like gated communities, Burns said. They could also be provided vehicle lanes in which only vehicles with vehicle-to-vehicle data transponders could drive, he said. Highly congested developing nations, such as India, might also have a strong interest in this sort of vehicle, he said.
This isn't the first time GM has tried to tackle the problem of urban transportation. Forty years ago, in 1969, the carmaker showed off the 512 Series Urban Cars. These were three small vehicles that were intended for use on specially designated roadways. Like the PUMA, they could travel at speeds of up to 30 or 40 mph.
Those vehicles never made it to production.