By Alexander Mooney
CNN

WASHINGTON (CNN) -- Former Vice President Al Gore is set to meet with President-elect Barack Obama and Vice President-elect Joe Biden Tuesday, leading to speculation Obama is eyeing Gore for a slot in his administration.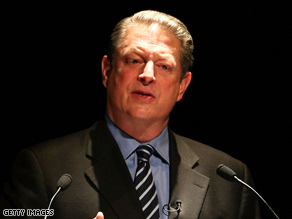 Al Gore delivers a speech at Waseda University November 19, 2008, in Tokyo, Japan.
According to the Obama transition office, the meeting will focus on issues relating to energy and climate change, and how the new administration's environmental policies can spur job creation.
Democratic officials have said Obama is not looking to tap Gore for a Cabinet-level post or any other position in the administration.
But a Gore appointment would almost certainly be greeted with celebration from members of the party's liberal wing, many of whom are still angry he lost the White House in 2000 despite winning the popular vote.
Gore has also rocketed to stardom in the years since his failed presidential bid, winning a Nobel Peace Prize last year for his work to raise awareness on the dangers of global warming. The former vice president's documentary on climate change, "An Inconvenient Truth," also won two Oscars in 2007.
Don't Miss
But Gore, who has made millions in the private sector since his days at the White House, has suggested he has little interest in returning to government.
A spokesman for Gore flatly said last week the former vice president has no interest in serving the Obama administration.
Nonetheless, Gore's high profile visit to Chicago, Illinois, to meet Obama and Biden is raising eyebrows, even among some of Gore's close advisers.
"The Gore trip is for more than just a chat," a close friend of Gore told CNN's John King. "He wouldn't burn that much carbon flying to Chicago just to talk."
But Obama, who eagerly courted Gore's endorsement during the heated presidential race, has long said he would welcome the Democratic elder into his White House, at least as an informal adviser.
"I will make a commitment that Al Gore will be at the table and play a central part in us figuring out how we solve this [climate change] problem," Obama said in April.
While this is the first time Gore is set to sit down with the president-elect since Election Day, the two regularly speak, aides have said. The meeting comes as the Obama transition team turns its focus toward naming its energy secretary and Environmental Protection Agency administrator -- two key posts that remain vacant.
Gore notably sat on the sidelines during the prolonged Democratic primary process, refusing to endorse a candidate until the outcome became clear -- a move viewed by some as a snub to Sen. Hillary Clinton who was engaged in a closely fought race with Obama at the time.
The former vice president made his debut on the campaign trail days after Clinton formally conceded the race, hailing Obama as a leader able to transcend Washington's poisonous partisanship.
"For America to lead the world through the dangers we're facing, to seize the opportunities before us, we've got to have new leadership," he said then. "Not only a new president, but new policies. Not only a new head of state, but a new vision for America's future."