BY KAREN NICKEL ANHALT
From: http://www.people.com/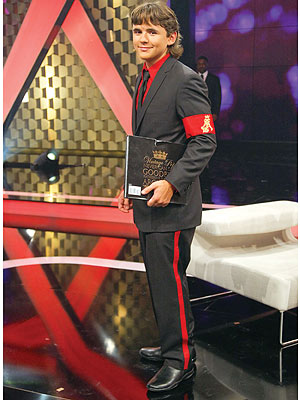 Looking very much like his father's son in a black suit, red shirt and red armband, Prince Michael Jackson, 14,
took center stage
at the Tribute to Bambi charity event in Berlin on Friday night.
The
King of Pop
's son presented three handwritten manuscripts for some of his dad's biggest hits: "Bad," "Billie Jean," and "Smooth Criminal," which are now up for auction for a good cause.
"With everything I do, I try to build on what my father did. I also try to help and change things – just like he did," a poised Prince Michael, 14, told the audience of 800.
Bidding goes until Nov. 10 at
United Charity
. Four hours after the auction opened, the manuscript for "Bad" was already at $20,400. Proceeds will go to charities benefiting disadvantaged children.
Prince Michael is "an incredibly polite, well-raised young man," a partygoer tells PEOPLE. "I think we can expect to hear more from him."
At the end of the evening, a choir of 30 children sang his father's hit song, "We Are the World," moving some in the audience to tears.
After his moment in the spotlight, Prince Michael showed that he was a regular kid, despite his famous father. "I wish I could stay longer to see the sights," he told reporters. "But I have to get back for school."