Scott Nichols, PC World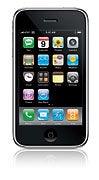 Best Buy seems to have a good deal going with Apple, as it was the first retailer outside of Apple's own stores to carry iPhones, and now will be the first again, by selling "refreshed" or, more accurately, refurbished 3G iPhones.
The refurbished iPhones will be devices that were returned within 30 days by the original owner and are priced $50 less than a shiny new model. So an 8GB model would sell for $149 while the 16GB model sells for $249. The refurbished iPhones are now available at 350 Best Buy locations that have a Best Buy Mobile store.

This will also make the iPhone the only refurbished item Best Buy currently carries. Of course the retail giant tries to get around that fact by calling the iPhones "refreshed" instead, but a marketing ploy through semantics doesn't change the fact that these are refurbished iPhones.
So what does this mean for you? Well, if you are in the market for a 3G iPhone, then Best Buy is a great place to get one for $50 less than full price. Best Buy stores are far more plentiful than Apple stores, so it's now more convenient than ever to get a 3G iPhone that someone else didn't want.