From: http://www.huffingtonpost.com/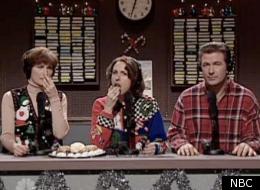 Maybe they would have preferred Bill Brasky's balls, instead?
The humorless, fun-averse conservative group One Million Moms, an offshoot of the American Family Association, is -- once again -- none too pleased with frozen treat liberals, Ben & Jerry's. The very vanilla organization is
calling for a boycott
of the ice cream maker's new,
buzzy flavor, the "Saturday Night Live" skit-inspired Schweddy Balls
.
In a public letter sent to its members, the organization acknowledges the origin of the rum-tinted, malt ball-filled flavor, describing the Alec Baldwin-starring NPR spoof skit in great detail.
He then explains that he sells popcorn balls, cheese balls, rum balls--balls for every taste--and the ball puns proceed for about four minutes. Ben & Jerry's chose to go with fudge-covered rum and malt balls for their flavor. The skit culminates in Baldwin stating that "No one can resist my Schweddy Balls."
Then, they make a point to air out their dairy delight grievances, including another rejection of any sort of gay-themed treat.
In the past, Ben & Jerry's has released controversial ice creams, like a special edition of Chubby Hubby called Hubby Hubby last year which celebrated gay marriage. It seems that offending customers has become an annual tradition for Ben & Jerry's.


The ice cream is being released in a limited batch, which means it will be distributed nationwide but only for three or four months. If it proves popular, another batch might be forthcoming, but we hope not.
Finally, a call to action, asking for vigilance in the face of a full frontal ball assault.
Please send Ben & Jerry's Public Relations Manager, Sean Greenwood, an email letter requesting that no additional Schweddy Balls ice cream be distributed. Also, highly recommend they refrain from producing another batch with this name or any other offensive names or you will no longer be able to purchase their products.
Those at the Huffington Post, however, heartily embraced the Schweddy Balls; read our taste test reviews here.
WATCH
: