Get away for a weekend, and live like a King

From: http://www.yellowpages.com/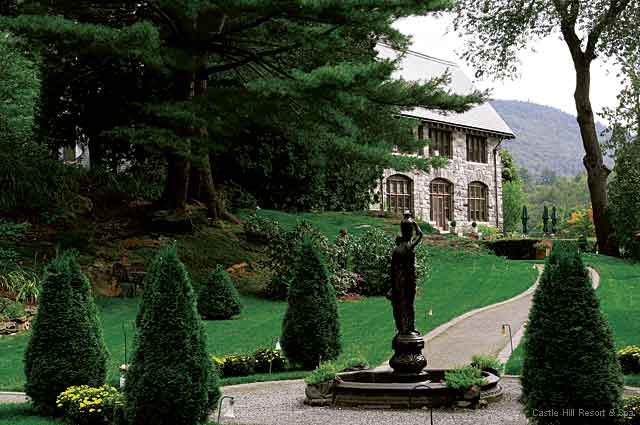 Castle Hill Resort and Spa
Cavendish, VT - More Details


Royal Treatment
Magic in the Green Mountains, near Okemo ski trails. Each room is a unique escape of period pieces, hardwood floors, carved ceilings and Tiffany lamps. Rejuvenate with the heated outdoor pool, yoga and pilates classes and tennis courts in this quaint, antique-happy land.
Price Tag
$225+ per night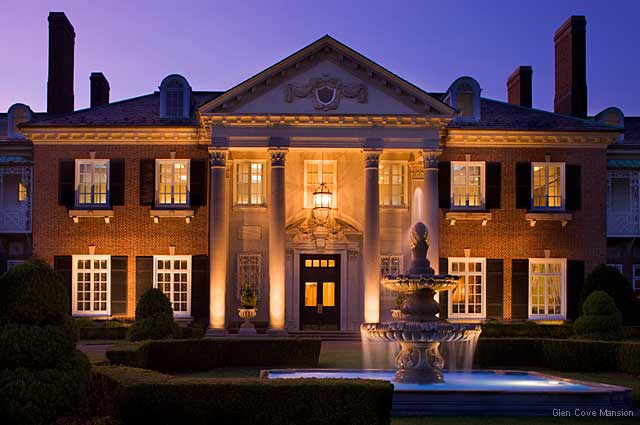 Glen Cove Mansion
Glen Cove, NY - More Details


The Royal Treatment
Once called "The Manor," the 1910 estate is part of Long Island's illustrious Gold Coast, lined with the English country houses and gothic Tudors of the wealthy. "North by Northwest" and "Sabrina" were filmed at the inn, now endowed with bourgeois pools and multitudinous sports courts.
Price Tag
$159-$399 per night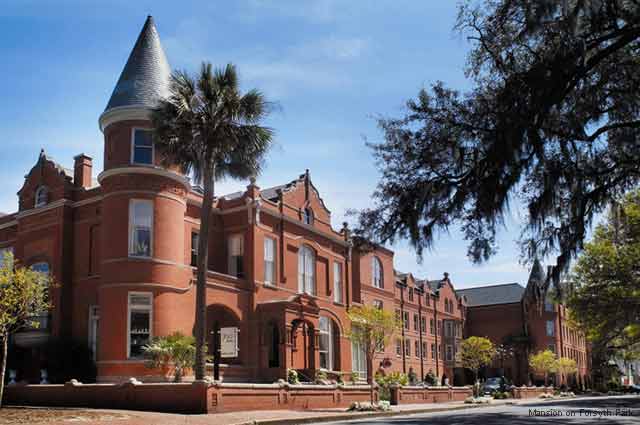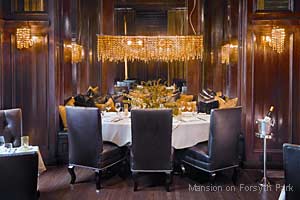 Mansion on Forsyth Park
Savannah, GA - More Details


The Royal Treatment
Play Savannah socialite in this restored Victorian in the heart of the Historic District. Gush over 400 pieces of original artwork, luxuriate at Poseidon Spa, stroll lush, legendary streets. Perfect your mise en place with chef-led classes at the Mansion's glowy-gorgeous 700 Drayton (left).
Price Tag
$199-$389 per night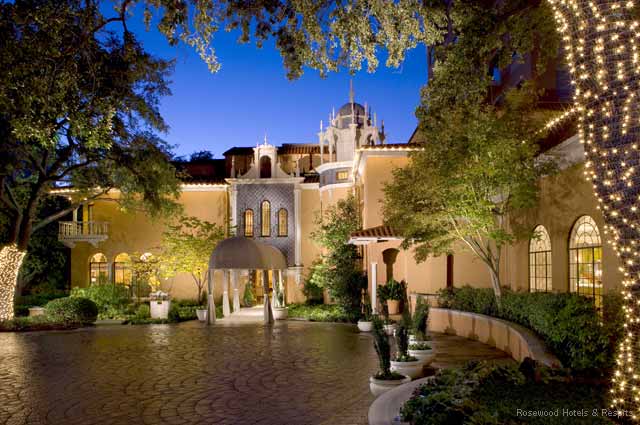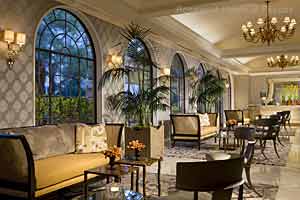 Rosewood Mansion on Turtle Creek
Dallas, TX - More Details


The Royal Treatment
Originally built by a cotton magnate in 1925, this 16th-century Italian Renaissance mansion-turned-hotel oozes ritzy with hand-painted Chinese silk wallpaper, hand-carved fireplaces and stained glass windows. Luminaries the likes of FDR and Tennessee Williams have basked here.
Price Tag:
$300-$1,000 per night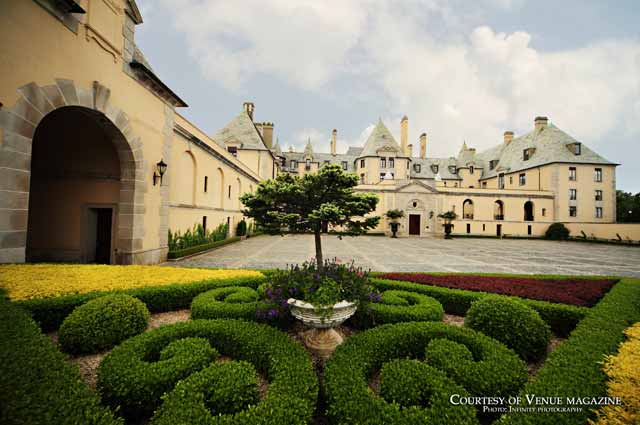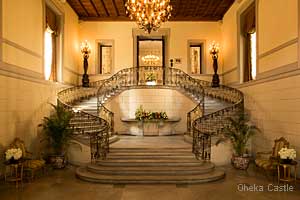 Oheka Castle Hotel & Estate
Huntington, NY - More Details


The Royal Treatment
Financier/philanthropist Otto Hermann Kahn built this French chateau in the '20s for $11 million ($110 million today!) Once Kahn's summer pad, it became a retreat for sanitation workers, then a military academy. Now it's a hotel resplendent with library and gardens. Day tours available.
Price Tag
$395-$1,095 per night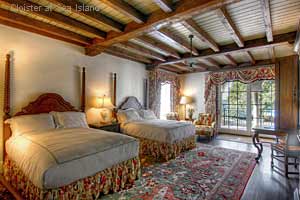 The Cloister at Sea Island
Simons Island, GA - More Details


The Royal Treatment
You can imagine Rockefeller himself pulling up to this secluded retreat along the Georgia coast. "Basic" accommodations here start with 700-sq. ft. rooms with river views all the way up to suites and villas with fireplaces and their own libraries.
Price Tag
$349+ per night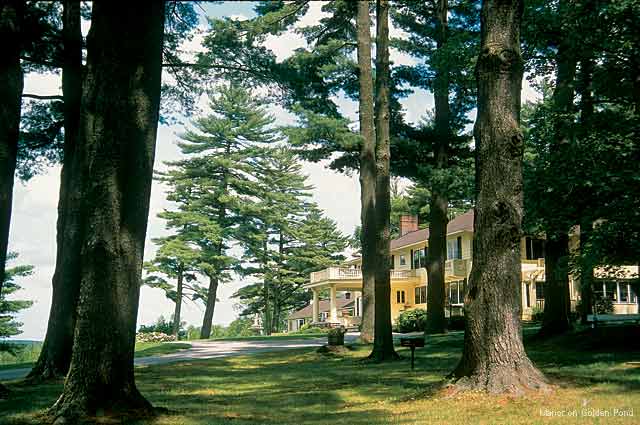 Manor on Golden Pond
Holderness, NH - More Details


The Royal Treatment
Indeed, it is that "On Golden Pond." The manor, originally the dream home of a debutante and a wealthy Englishman, looks over Squam Lake, where the Oscar-winning "On Golden Pond" was filmed. Most rooms have wood-burning fireplaces and sweeping vista views.
Price Tag
$220-$540 per night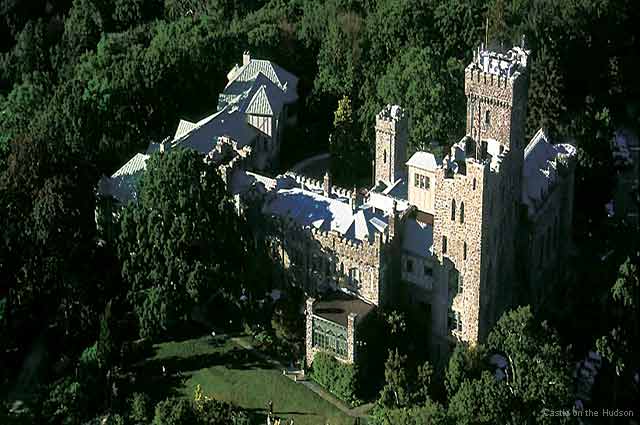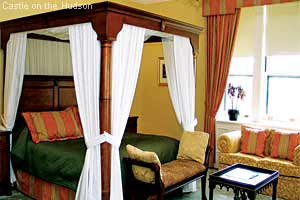 Castle on the Hudson
Tarrytown, NY - More Details


The Royal Treatment
Carrollcliffe was its first name, built from 1897-1910 just outside of Manhattan. Much of the castle's original woodwork and furnishings remain, and a cave-like bar is made of stone quarried on site. Fireplaces, shadowy alcoves, and bocce by the waterfall make this a place out of time.
Price Tag
$220-$650 per night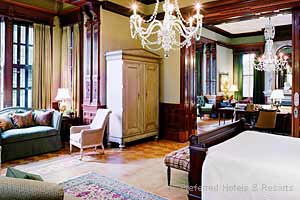 Wentworth Mansion
Charleston, SC - More Details


The Royal Treatment
Not much has changed since Wentworth house debuted in the 1800s in Second Empire style. The mansard roof tops crystal chandeliers, marble mantels and Tiffany stained glass windows. Pore over tomes in the library, swirl cordials in the parlor ... if you can abandon the Grand Suite (left).
Price Tag
$279-$750 per night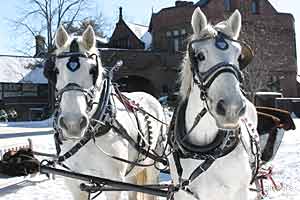 Blantyre
Lenox, MA - More Details


The Royal Treatment
Dare we say the Queen Mum herself would approve. Built as a family getaway in 1901, the English manor exudes regal posh, with leaded glass windows and in-room fireplaces. Idle like aristocracy playing bocce, snow-shoeing across the 117 acres, or delighting in a jolly sleigh ride.
Price Tag
$675-$2,000 per night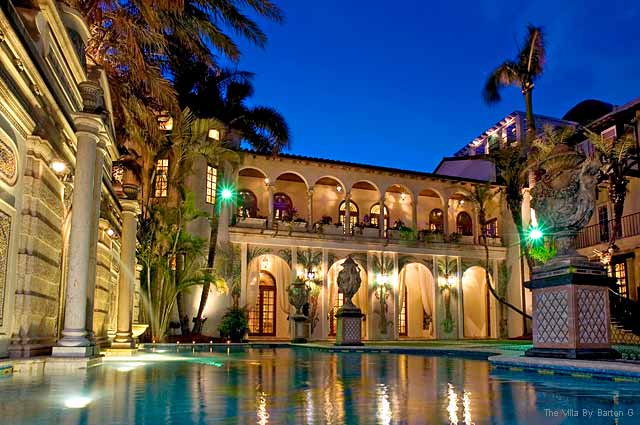 The Villa By Barton G
Miami Beach, FL - More Details


Fab Factor
Live like a lavish mogul at late designer Gianni Versace's 19,000-square-foot estate. Ornate floors of Italian marble, the outrageously opulent Thousand Mosaic Pool, a rooftop lounge where you can thank your lucky stars ... They've even got Kindle e-readers for you.
Price Tag
$795-$1,950 per night