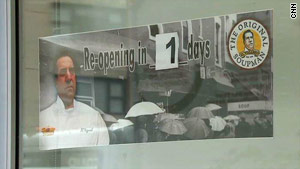 Al Yeganeh's soup store in midtown Manhattan returns Tuesday after a six-year absence.
New York (CNN) -- Get in line, have your money ready and move to your extreme left -- Al Yeganeh, "the Original SoupMan," is back and re-opening his famed soup store Tuesday in midtown Manhattan.
Yeganeh and his Soup Kitchen International first rose to fame after he was caricatured in the long-running NBC TV show "Seinfeld" as the "Soup Nazi," a cranky and demanding soup-stand cook who bellowed "No soup for you!" to customers who didn't follow his strict rules for ordering.
Watch CNNMoney.com's report on the 'Soup Nazi'

Yeganeh, who first opened his shop in 1984, closed the store six years ago, but kept the lease to pursue franchise opportunities and a line of frozen soups with the Original SoupMan brand.
Chef Dan Rubano, who mentored with Yeganeh, was at the store a day before its re-opening, helping to set things up.
"We are keeping the original recipes and adding more to the menu," Rubano said.
Rubano didn't know whether Yeganeh would stop by for opening day, but said he's expected to make sporadic appearances.
According to the "Seinfeld" Web site, Yeganeh was at first unhappy with the publicity from the "Soup Nazi" episode and was quoted as saying he threatened to "smack" comedian Jerry Seinfeld's face.
Seinfeld, whose title character was banned during the "Soup Nazi" episode, declined to comment on the store's reopening.