Just as the rumors of a pricey
Apple tablet computer
have reached a high-water mark, Freescale Semiconductor on Monday showcased reference designs of an affordable, lightweight tablet computer, which is set to hit the market later this year.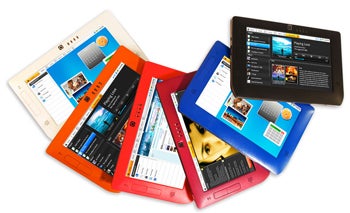 Freescale, which supplies the guts for this new breed of computers called smartbooks (about one third the size and volume of a
typical netbook
), is putting its weight behind this category with a concept of what could become everybody's tablet.
The Freescale tablet reference design (pictured above) has specifications close to what we have been hearing about the
mythical Apple tablet
: a 7-inch touch screen, 3-megapixel camera and various sensors such as a three-axis accelerometer and an ambient light sensor.
Next to the 512MB of RAM, up to 64GB of internal storage (microSD expansion) and a 1GHz processor, Freescale's smartbook tablet features a potentially killer spec: a $200 price tag. Next to an Android or Linux operating system, it also includes Wi-Fi and Bluetooth connectivity and options for a 3G modem.
The smartbook reference design is intended to run everyday-use applications such as a Web browser (with Adobe Flash support), an e-mail client, an RSS reader, social networking tools, and an office suite, among others.
So far, no one has had a chance to have a deeper look at Freescale's holy grail smartbook, but the chipmaker is planning to demonstrate the design at the
2010 Consumer Electronics Show
(CES) later on this week.
If manufacturers pick up on Freescale's concept, such smartbooks should show up in a store near you perhaps later on this summer, with a price point below the $200 ceiling, the chipmaker says. However, no potential vendors for this tablet design have been named.
Here are the full specs of the Freescale smartbook:
Size: 200mm by 128mm by 14.9cm and weighing 376 grams; no need for fan or heat sink
Processor: Freescale i.MX515 applications processor provides high performance and low power
ARM Cortex-A8 1GHz
OpenVG & OpenGL/ES graphics cores
HD video decoder hardware
Memory: 512 MB DDR2
Display: 7-inch (1024 by 600) touch screen
Storage: 4-64 GB internal storage; removable micro SD
Connectivity: 3G modem (option) 802.11 b/g/n, Bluetooth 2.1, GPS, RF4CE (option)
Ports: USB 2.0 and USB mini (also for charging), audio in/audio out, SIM card
Audio: speaker, microphone
Camera: 3 Megapixel (video recording up to VGA @ 30fps)
Battery: 1900mAh, USB charging
Sensors: the MMA8450Q three-axis accelerometer and an ambient light sensor
Power management IC
And while we are in tablet land, January should see another tablet design unveiled, as Apple is reportedly preparing to
introduce its tablet on January 26
.
Follow Daniel on Twitter @danielionescu