Photo by: John P. Filo / CBS; Brad Barket / Getty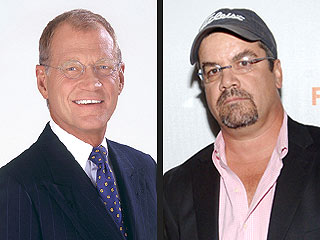 New details have emerged about the alleged $2 million
extortion plot
against David Letterman.
In a press conference held by Manhattan District Attorney Robert Morgenthau Friday morning, prosecutors identified the suspect in the plot as CBS News producer Robert "Joe" Halderman and outlined the case against him but declined to comment on his possible motives.
Morgenthau said that Halderman, a
48 Hours
producer, had been charged with attempted grand larceny between the period of Sept. 9 and Sept. 30.
The D.A. said that Halderman waited outside Letterman's Manhattan apartment Sept. 9 at 6 a.m. to give him a package and say that he needed a "large chunk of money." He was hoping to sell a "screenplay treatment" and told Letterman that his life was about to collapse around him.
The one-page treatment mentioned "your beautiful loving son" and said Letterman's "world was about to collapse around him." He also referred to "ruined reputation and severe damage to his professional and
family
lives."
Halderman allegedly said he should contact Letterman by 8 a.m. to further discuss the matter. Letterman immediately called his lawyer. Halderman and the lawyer met at the Essex House hotel on Sept. 15, at which point Halderman allegedly attempted to extort $2 million from Letterman, 62, in exchange for keeping quiet about sexual activity between the
Late Show
host and female employees of his program.
One of the women at the center of the case is Stephanie Birkitt, Letterman's former assistant, according to the search warrant obtained by
FOX 5 New York
. The warrant says Birkitt was Halderman's girlfriend.
On
Late Show
Thursday night, Letterman admitted to having "had sex with women who work with me on this show" and said that he had testified against his alleged extortionist before a grand jury earlier that day.
The warrant says that the package Halderman sent Letterman – who married longtime girlfriend Regina Lasko in March – contained copies of parts of a diary and correspondence belonging to Birkitt.
An arraignment is scheduled for Friday at 2:15 p.m.