Recession? What recession? These luxury phones certainly aren't designed for tough economic times.
Amber Bouman, Infoworld
Since my last name isn't Hilton, Trump, or Rockefeller, I won't be treating myself to any of these upscale handsets. Yet, these luxury phones will certainly find a home. Let's break down the latest ridiculous offerings:
1) Samsung Ego GT-S9402 - Given the derivative design (Vertu's Ferrari Ascent Ti came first), the Ego should be docked some originality points. What will your $1,500+ get you? A 5 megapixel camera with LED flash, Bluetooth 2.0, a microSDHC expansion slot, tri-band GSM connectivity, dual SIM slots, and an FM radio module. The Ego lacks a 3G radio, which is almost as lame as the measly 1GB storage.
2) Bellperre Silver and Gold collection - Bellperre lets you choose from 100 exotic leathers such as crocodile, shark, lizard, and buffalo (um, does PETA know about this?) to customize this phone. In addition to precious gemstones affixed to the handset, you also get tri-band support, a 2-inch TFT display of sapphire crystal, Bluetooth (stereo), an MP3 player, Windows Mobile OS, IM, e-mail, and a camera with camcorder. I couldn't find any information on pricing, but believe me when I say I'd rather use a payphone than pull a pink crocodile rose gold handset out of my purse.
3) Mobiado Professional 105GMT Gold - I'm wondering what about this phone says "professional." This unfortunate handset looks like it belongs in a blinged-out music video, not a boardroom. Its CNC-machined frame is crafted from sapphire crystal and ebony wood and dipped in 24-carat gold, with two mechanical, self-winding Swiss watches below the keypad for God-only-knows why. And the specs? You get a 2-inch 320-by-240 res display, a 2-megapixel camera, a quad-band GSM radio, Bluetooth, a Discovery watch mechanism, optional diamonds, and again, 1GB of built-in memory. That hardly justifies whatever the made-to-order price is. And oh yeah, only 50 of them will be made.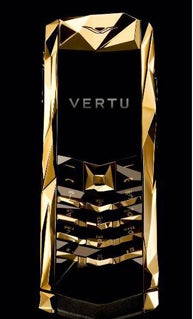 4) Vertu Boucheron 150 - Yeah, I could have picked on the Ferrari Ascent Ti, but this phone desperately wants attention, and I'm going to oblige. This handset is so ugly, I cringed. The price includes the hideous wood packing box that this clunky, awkward handset arrives in. This "solid gold" catastrophe is meant to celebrate the 150th anniversary of the Boucheron jewelry house, took a total of 2,200 man hours to create, and costs more than your kid's teacher probably made last year ($30,000).
5) Gresso's Avantgarde Skeleton - This collection is rather limited: Only fifteen of these will be made, and that's probably a wise choice. Again, you get crystal sapphire glass (for the transparent back panel and for the 240 x 320 display), Bluetooth 1.2, a titanium alloy case, a battery case of stainless steel, and a leather cover with magnet release. The back of this phone has the Gresso logo covered with 10 micron gold, and it runs Windows Mobile 6.0. And the price? Steep like Mount Everest: $5,000.