By Anna Katherine Clemmons
COEUR D'ALENE, Idaho -- Jake Plummer stands in his tube socks, shorts and a T-shirt, still sweating. He's gone through about 20 shirts over the weekend. A sweatband holds back his shaggy brown mane, and he hasn't removed his goggles. He spreads his palms, showing his calloused hands (though the bruises, he says, are from playing the bongo drums at a bar the night before). "I know it's crazy," he says, "but I kinda want to keep practicing. I'm sore and exhausted, but I still want to play. Is that crazy?"
Maybe. Even crazier? Plummer isn't referring to football. He's talking about handball.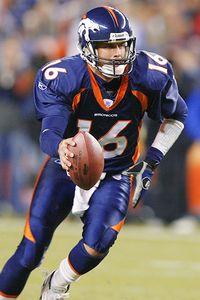 Aggie Skirball/NFL/Getty Images
Jake has no regrets about leaving the Broncos, where he went 39-15 as starting QB.
Spend 10 minutes with the former NFL quarterback and it's obvious the man is perfectly happy away from football. One of the biggest reasons has been his rediscovery of handball, the sport that his father, Steve, taught Jake and his older brothers, Eric and Brett, when they were young.
Eric, 37, is the most talented Plummer on the handball court, a fact Jake reluctantly admits (though he quickly points out that Eric played in college). The baby brother in the family, Jake, 33, says his first goal is to beat Eric. "It won't happen now, but give me a year or two," he says, grinning. Jake's return to handball came soon after he left the NFL in 2007, a departure many fans and pundits questioned. He could have played a few more years, tried for a Super Bowl ring, or at the very least added more cash to the kitty. But he was tired of the anti-inflammatory diet, tired of his back and knees hurting and tired of coaches yelling at him. Back home in Idaho, he saw John Elway driving around the golf course, unable to walk from hole to hole, and worried that would be him in five years. Raised in Boise by "hippie" parents, Jake craved the outdoors: hiking, camping, even mowing the lawn. He missed spending time with his family (Brett and Eric are both married with children). "I've seen more of Jake in the last year than I had since high school," Eric says. So Jake and his wife, Kollette, a former dancer and Broncos cheerleader, moved to Sandpoint, Idaho, splitting time between there and a second home with 47 acres in Coeur d'Alene, a picturesque town in northern Idaho. Jake started volunteering with the humane society and the senior citizens center, delivering groceries and cutting down firewood. And to help keep in shape, he returned to handball, after a 12-year hiatus from the sport. "The first time I played again, I was so sore that I couldn't lift my arms," Jake says. Playing several times a week, Jake has lost 20 pounds from his NFL days and is in, he says, the best shape of his life. He can drop to one knee and jump back up or move his lanky 6-foot-2 frame with surprising speed and agility. His constant arm and back pain of the last decade is gone. He can run, bike and hike, or, as he demonstrated over a Halloween weekend handball tournament at a local health club, somersault, nose-dive and swat at handball shots from his left or his right side.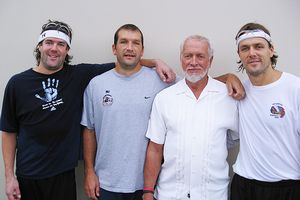 Todd Fiesel
The Plummers -- from left, Brett, Eric, dad Steve and Jake -- take their handball seriously.
Not surprising, Jake says, since he credits handball as a major reason he was able to play in the NFL. "I guarantee it helped my career by rounding out my ability: hand-eye coordination, endurance and mental toughness," Jake says. Family friend Jimmy Slavin tells the story of the Plummers' traveling to New York City for the Heisman Trophy ceremony in 1996 (Jake finished third in the voting, trailing winner Danny Wuerffel). Afterward, they didn't celebrate with a fancy dinner; instead, Steve and his sons found a local handball court and played until almost 4 a.m.
Jake occasionally travels to weekend tournaments and recently had his father-in-law try handball for the first time. Last spring, while playing with Slavin, they discussed Jake's using his celebrity to help promote the sport. He decided to host a tournament in Coeur d'Alene, with the proceeds going through his Jake Plummer Foundation to several local charities.
Jake made some calls, and soon eight of the world's elite pros had agreed to play in Jake Plummer's First Annual Halloween Handball Bash. Amateurs signed up, too, until the entry list topped 95 competitors, men and women. The four Plummer men signed up. Jake's mother, Marilyn, made Costco trips for supplies, and Kollette organized the food. Jake's aunt Pat drove from Boise to serve as event planner. "He wants this tournament to become the Super Bowl of handball," Marilyn says.
How to Play Handball
First, you need a ball. A small ball: handball, racquetball or tennis ball. After you have acquired the ball, go outside and walk around looking for a flat surface with no glass windows. This is the wall you're looking for -- a wall with flat ground near it.

A ball and a wall! That is all you need to play handball.

Next, begin hitting the ball against the wall, letting it bounce once before you strike it again back against the wall you have chosen. Continue doing this until you find a friend to alternate hitting the ball with. You are now playing handball -- one-wall handball. That is it, the most basic way to play handball.

A ball and a wall! And a friend to add competition.
--Jake Plummer
Though he hopes to establish an annual tradition, Jake says his larger goal is to popularize youth handball nationwide while encouraging teen athletes not to focus too intensely on a single sport. "My ultimate goal is to get coaches to stop specializing their athletes, telling them they can't play other sports because it'll hurt their football," Plummer says. "I played all three sports and handball whenever I could. That's why I made it in the NFL -- that rounded me out as an athlete." On Saturday night, one of the competitors picked up a raffle prize, a football signed by the 2008 Denver Broncos. "How're they doing this year?" Jake asked with a wry smile. Clearly he doesn't keep close tabs on his former team. "I called Jake on a Monday night a few weeks ago and asked him if he was watching the game," Steve says. "He asked, 'What game?' I told him Denver was playing New England and that Denver was down 13-0. 'OK,' was pretty much all he said." Still, remnants of his fourth-quarter comeback days remain. Jake likes to talk handball strategy with fellow players and will yell at himself after missing an easy shot. "He and Brett got off the court … and he was giving Brett advice," LeAnne, Brett's wife, says. "It's funny, because Brett was the state champion in Idaho last year. But that's just Jake." When reversing on the court, he backpedals like a quarterback in the pocket, hitting off his back right leg with a swing that mimics his former passing motion.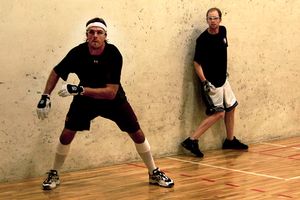 Todd Fiesel
One of Jake's goals is to teach kids that playing a variety of sports is important.
When not playing, he's just another aficionado, wowing over the pros' shots and asking fellow players for tips. Try to talk to him about family or football during a match and he'll invariably steer the conversation back to handball. "Can you believe this guy?" Plummer asks excitedly while watching a consolation match on the last day (surely a role reversal for 20-something Jeff Kastner to have an ex-NFL quarterback idolizing his game, especially when Jake is one of three spectators). "I think he's happier now, though he doesn't talk a lot about it," Eric says. "Once in a while, football comes up, and I almost get a sense that he bristles a little. It was the forefront of his life for high school, college and much of his early adulthood. But now, there's a lot of things he missed out on that he's excited he has a chance to start tackling." Reputed to have begun as early as 2000 BC, handball remains a niche sport often passed down from fathers to sons. But if anyone can bring more exposure, it's Jake. Throughout the weekend, he sat and talked with every attendee, from the world's third-ranked player to an 82-year-old who had come to watch his grandson play. Plummer laughed and smiled, whether having a beer from one of the kegs consumed by the players and spectators or eating barbecue cooked in the parking lot by Happy Watkins, a former handball player who drove from Spokane, Wash. With the NFL spotlight gone, Jake is just another athlete relishing the pleasure of his sport. Around noon Friday, before the tournament began, Jake was hauling boxes of decorations and setting up tables. Before the competitors began arriving, he sat for a moment and offered this: "Handball is a lifelong sport where the athletes welcome you with open arms. That's why I don't miss football. You see the camaraderie: guys having a beer, giving each other [crap], hanging out, and that's what this game is. I don't miss the locker room because here, we play handball and sit there for two hours afterward laughing, making fun of each other and telling stories. I know it's weird because I'm not getting a paycheck like in the NFL, but I'm living, doing what I want to do, and my knees and back aren't falling apart. I don't walk off a handball court having [Mike] Shanahan yell at me, 'You missed your guy in the left corner.' … I don't have that anymore. I have my own self to get mad at. And I do get mad at myself sometimes. But my wife is like, 'Who are you doing this for? Don't you do this for fun?' And I say 'Yes,' and she says, 'Well then, have fun.' And she's right. It is fun. I want to play this until I'm dead, whenever that is. There aren't many things you can say that about."
Anna Katherine Clemmons is a reporter for ESPN The Magazine and a regular contributor to Page 2.