Second school collapses in Haiti
PORT-AU-PRINCE, Haiti (CNN) -- Children dancing and jumping in a musical at a school in Haiti's capital caused the building to partially collapse on its foundation Wednesday, a top Red Cross official said.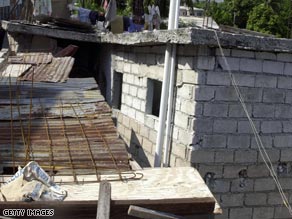 A partially-collapsed school in Port-au-Prince that left 7 injured Wednesday.
Nine children were injured Wednesday at Grace Divine Primary and Secondary School in Port-au-Prince but there were no fatalities, said Brigitte Gaillis, head of operations in Haiti for the International Federation of the Red Cross and Red Crescent.
The incident marked the second school building collapse in the country in less than a week.
The school, on the side of a hill, consisted of several small buildings constructed on top of each other, Gaillis said.
"This is a minor collapse," journalist Clarens Renois told CNN by telephone from Port-au-Prince.
Renois said the apparent cause of the latest collapse was faulty construction.
"This is the same kind of problem of construction as in the school last week," said Renois, of the Haiti Press Network. "It's weak construction. It's not solid."
Children panicked at a second school about a mile away when they thought their building was shaking, Gaillis said. Two children were injured in the panic, but there was no damage to that school, she said.
CNN's David Mattingly said the scope of the damage did not appear to match last week's collapse of a three-story concrete school that killed more than 90 people -- many of them children -- and injured 150 in nearby Petionville.
Speaking about last week's disaster, Haitian President Rene Preval said the school's structure was "really weak." He called for a review of construction guidelines.
There were conflicting accounts of how many people had been inside the College La Promesse Evangelique when it collapsed Friday.
Abel Nazaire, deputy coordinator of risk and disaster management in Port-au-Prince, said about 700 people were on the school grounds at the time of the collapse.
But Andre LeClerc, a U.N. spokesman at the scene, estimated that as few as 250 people were inside at 10 a.m. Friday, when the disaster struck.
Haitian and international search-and-rescue officials told reporters Monday afternoon they had done all they could to ensure that no survivors remained in the rubble of the school. The search-and-rescue effort, carried out on a hilltop on the outskirts of the capital, became a recovery effort.
No survivors had been found since early Saturday.
The school's owner, Fortin Augustin, was questioned by Haitian authorities, said Alta Jean-Baptiste, director of the Caribbean nation's Civil Protection Bureau. Augustin turned himself in but had not been charged, said Garry Desrosier, a police spokesman.
Many of the injured -- most of whom ranged in age from 10 to 20 -- suffered deep cuts and broken bones.