From: http://news.blogs.cnn.com/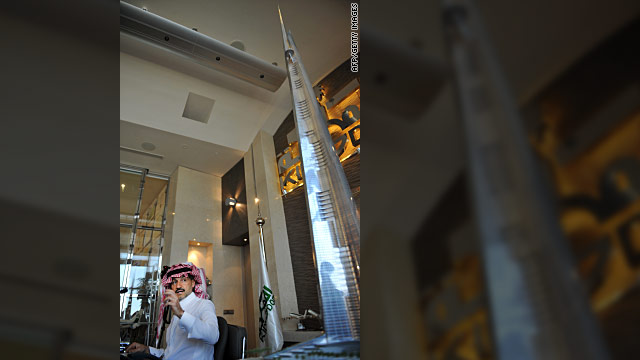 Jeddah Tower will be 1,000 meters (3,281 feet) tall and will contain a Four Seasons luxury hotel, apartments, condominiums and offices that overlook the Red Sea,
Financial Times
reported.
Kingdom Holding is paying Bin Laden Group, one of the world's largest construction companies, about $1.2 billion to take on the five-year project, according to Financial Times.
Saudi Bin Laden Group was founded in 1931 by Muhammad Awad bin Laden, the billionaire father of terrorist Osama bin Laden. It built much of Saudi Arabia's highways and infrastructure, as well as entire districts and cities.
The company constructed additions to the Muslim nation's two holiest mosques in Mecca and Medina. It operates throughout the Middle East and was chosen in 1964 to reclad the golden Dome of the Rock mosque in Jerusalem.
Over the years, Saudi Bin Laden Group has expanded into a conglomerate that includes engineering, manufacturing and telecommunications, according to business analysis site
Hoovers.com
.
Osama bin Laden, the 17th of 52 children, inherited part of his father's fortune, but his radical activities led the family to disown him in 1994.
Prince Alwaleed Bin Talal Bin Abdulaziz Alsaud, a nephew of Saudi Arabia's King Abdullah, announced the tower building contract Tuesday. He owns 95% of Kingdom Holding, according to Financial Times.
When completed, Jeddah Tower will easily surpass Dubai's 828-meter (2,717-foot)
Burj Khalifa
as the world's tallest building.
The Chicago firm
Adrian Smith + Gordon Gill Architecture
designed the project and will oversee its development, Gulfnews.com reported. Adrian Smith was one of Burj Khalifa's designers when he was with Skidmore Owings and Merrill.