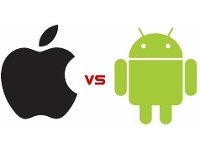 From:
http://www.savings.com/
These days in technology it often comes down to a simple question:
Apple
or
Android
? Sure, there are other brands, but these are two brands and operating systems that we're all super familiar with in our daily lives. I have an
iPod
, MacBook, and Android phone (
as well as two PCs, but that's another story!
).
The Apple vs. Android battle has gone beyond laptop and cellphone to the arena of television--specifically Internet TV.
In a cage match to the death, which is the better product in the long run and also best for your budget: Google TV or Apple TV? It's time for the showdown and lowdown on these cool new Internet TVs: what do you need, how much do they cost, are they worth the price, and which is better?
Google TV
The
Google TV
motto is "your TV just got smarter." I hope that doesn't mean it plans to revolt against its creators, Terminator style. But, being the new kid on the block, it looks like Google may have bitten off more than it can currently chew, so you're probably safe from Terminator-esque Internet TVs plotting against you.
Probably
.
Google TV boasts a lot of incredible features, but a pretty hefty price tag. To get Google TV, you need one of three things: a
Sony
Internet TV (
enabled with Google TV automatically
), a
Logitech
Revue box, or a Sony Internet TV Blu-Ray Combo Box. Sony Internet TVs start at $599 for a 24" model and go up to $1,399 for a 46" model. The TVs are sleek and cool, and because it's Sony, they are good buys in the long run.
Compared to the $299 price tag for the Revue and the $399 one for the Combo Box, it's hard to say which is the best option. If you've already got a killer big screen, I'd say stick with it and go for the Revue. Otherwise, get the Sony Internet TV. The Combo Box isn't all that great, and for what it does, the Revue does better.
So, what
does
it do??
With Google TV, you have very few restrictions on what you can do with your TV. Want to watch a movie? Browse
Netflix
, your DVR, live TV, YouTube and more straight from one source called "the Homepage." Just like in a browser or smartphone, your homepage sets the tone for what you want to do with your TV: you can set-up favorite channels, see what you've recently watched, add movies to a queue, and even record from your DVR straight from the search box. It's super-intuitive, just like you'd expect from Google.
Google TV also comes with applications, automatically installed with Pandora, Netflix, CNBC, and more. Also coming in 2011, the Android Marketplace for Google TV will be opened to developers wishing to create their own apps, so just like on any smartphone, you'll be able to download games, social, and other apps for your TV. (
With this, you do run the risk of downloading apps that are not necessarily good for the OS, but I really think if you're dumb enough to download something that looks fishy, maybe you shouldn't have an Internet TV. Just sayin'
.)
Other cool features for Google TV include the ability to "fling" content from any smartphone or iPod to your TV with one simple click. Plus, you can use your smartphone, iPod, or your own voice to surf channels or browse the web. It's all inclusive. Or, if you want to use a 'normal' remote, try the one it includes, which boasts a full QWERTY keyboard! All this awesome technology would make Marty McFly say, "This is heavy, Doc."
As for content, Google TV works with Netflix and
Amazon
(
not iTunes, obviously
) as well as YouTube, NBA Game Time, Blip.tv, and VEVO. It doesn't unfortunately work with Hulu, CBS, ABC, and some other popular sites due to legality issues (
they basically don't want you getting their free content on your TV, even though you can get it on your iPod
).
Overall, I love the idea of the Google TV, but at the moment it is extremely pricey and is not without bugs and limitations. That said, it does the most of any Internet TV solution on the market and offers free updates through its interface, so when the technology does catch up to the ideas, you'll get it all free. A great option if you have a little extra cash and want an all-inclusive solution.
Apple TV
Compared to Google TV,
Apple TV
doesn't appear to offer very much. There's no built-in web browser, so you can't get all the content you can from Google TV, the remote is small and weird, and there's no app store. But what Apple TV does offer, it does well: it is seamless to set-up (
literally, just plug and play
), offers a familiar interface for those of us who've used an iPod, MacBook, or
iPad
, and is extremely affordable. At just $99, it's a real bargain for becoming a media solution, but it has a ways to go to be comparable with other devices on the market.
The big content from Apple TV includes the ability to rent from Netflix or
iTunes
(
no Amazon
) as well as YouTube. You also can stream Internet radio, access Flickr photos and use MobileMe galleries, but it's missing the big thing that makes Internet TV unique:
The Internet
! I think in a year or so, Apple will jump on the bandwagon with a built-in web browser, as they can't really compete if Google TV lowers its prices. But for $99, you really may feel more comfortable getting your movies and some Internet abilities through Apple.
Also in the 'coming soon' stages, Apple TV will soon offer AirPlay, which will allow you to stream content from your iPod, iPad, or smartphone straight to the TV. This will really up the value of Apple TV, as will an extensive app store, if they decide to offer that.
The biggest downside I found for Apple TV was really the lack of content. You do have access to YouTube for a lot of great shows, but otherwise you're stuck with NetFlix's unfortunately limited selection of streamable TV shows (
assuming you're paying the $9/month fee for Netflix
) or the $1 per episode charge through iTunes. I mean, I'll pay $1 per episode if I have to, but only if every single show I want to watch is there. iTunes and Netflix have limitations, which YouTube can help fill in, but not entirely. Without a web browser, you're stuck with just these three options as a hopeful catch all.
But for the budget, there's really no getting around how affordable Apple TV is. For $99 (
plus the cost of an HDMI cable if you don't already have one
), you can see some TV shows, movies, YouTube videos, and your own iTunes content to your heart's desire.
Overall, if you're working on a budget or require the familiar, go with Apple. If you're willing to spend a little extra for a lot more content, try Google. Both will be updating more and more as the months and years go by, and they can really only get better with time.