From: http://www.darkroastedblend.com/

You mean this device plays music, too?

This article will cover a few bizarre musical instruments, an oddities used by musicians to convey that special feeling or a melody. Some of the uniquely crafted items may cost a fortune, others are very simple and can be easily assembled from parts found in your kitchen. All of them have loads of character, and that special sound that no other instrument can make.

"The madness" started in 1619 with the "Temple of Music" acoustic experiments:



(image credit: Bibli Odyssey)

I am going to devote a special post to vintage music machines, as they are endlessly fascinating to my inner "music geek". Fast-forward to the modern times:


Thumb Pianos, or Kalimbas

Robert Patterson Collier makes custom and very aesthetically pleasing miniature instruments. There are many varieties on display in his Flickr set and, with his permission, here are a few that we particularly like:

Kalimba made from lamp parts and an ashtray:




The Ultimate Portable Thumb Piano? "A Camera Piano" -
Kalimba fitted inside a bellows camera case:




"The thumb piano, known as a kalimba or mbira and by many other names, is a lamellaphone that uses plucked prongs called tongues, keys or tines to generate acoustic vibrations."

Another Collier's set shows easy-to-make "Screw Lamellaphone" in detail and this Instructables article describes the DIY process:




Zither Kalimba:



Robert writes: "The sound produced is idiosyncratic to each instrument, often colored by creaks, buzzing, humming, croaking, twittering, hyper-resonance and other strange artifacts... While many of the instruments are wired with a piezo transducer and some even have their own built-in amplifier or digital recorder, the manner in which the sound is captured and the signal processed offers great potential for exploration."

On his Flickr set page are many links to the videos, marrying the lamellaphone's "ambient sounds" with minimalist abstract imagery. Some are very relaxing, check them out.


On the other end of piano scale

High Fashion... Fluid Forms... Consider this futuristic "Pegasus" piano made by the German firm Schimmel and designed by legendary Luigi Colani himself:




...or a classic upright piano nicely complementing your Porsche (or your SonicAir toothbrush)




We also like this transparent concert piano idea:




Another model "Otmar Alt" that even your kid would love:




Here is a new development: scientist say that it's best to learn piano while playing underwater ;)




or if you set it on fire, you might get a really scorching solo out of it: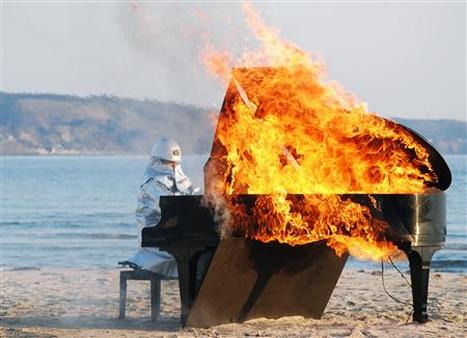 (image credit: Japan Today)

Jazz pianist Yosuke Yamashita plays a burning piano on the beach in Shiga, Japan. Yamashita did the same thing once before in 1973; he would do this every day, given an endless piano supply.


The Ondes Martenot - very strange French keyboard with a plaintive spacey sound

Definitely better sounding than most analog synthesizers, this highly refined instrument has been invented in 1928 by a French radio enthusiast Maurice Martenot. The pure "space bliss" sounds are made by pressing the sensitive button with your left hand (modulating the waves) and stretching the special string assembly with your right hand.



(image credit: Keyboardmuseum)

Here is a demonstration of the technique:



Watch Radiohead perform on the Ondes Martenot the techno despair sounds that this instrument was plainly designed to produce. "The Martenot Waves" keyboard was also used in the "Lawrence of Arabia" and "Mad Max" soundtracks.


Guitar Solos with Bite

Bill Stahl Photography site has a groovy picture of this bass guitar: (unfortunately there is little information on where to order this thing)




From this monumental compendium of curious instruments (thanks to Barry Wood) come a few guitars that may cause some head-scratching:

Split-Level Doubleneck from China (quite ergonomic, we might add)-




Spanish coolness -




Hindu Doubleneck (would come handy to have goddess-like four hands to play it, they say) -




Some gorgeous acoustic guitars:
Delmundo -




Zemaitis engraved guitar:




Weirdomatic has collected more examples of bizarre bass guitars. Here is a couple of our favorites:

This one is made from "Ouija" board, apparently for communicating with the "Grateful Dead":




Assault Bass, made by The Armando Custom Case company:
(order it from here - but just don't take it thru the airport security checkpoint!)





For a True Audio Gourmet: Drums Made From Cheese!

If you consider yourself a sophisticated partaker of sublime sounds... sort of like a gentleman shown here:



(original unknown)

then you will appreciate the yummy sounds produced by a set of drums MADE FROM CHEESE.



(image credit: Quixoticals.com)

Seen at Quixoticals.com, they were created by Dutch artist Walter Willems for the Mocca Contemporary Art exhibition. The cheese must be really aged to make a thumping sound, plus the whole thing may be used to feed the starving artist for a week, if paid gigs would dry up. See it in action in this video.


Finally a truly EPIC instrument

Bored of the tinny sounds your little piano or guitar makes? In the mood for something as big and mysterious as the ocean itself? Come to Zadar, Croatia, and listen to "The Sea Organ". Giant 70 meters long instrument has 35 pipes and resonating underwater cavity - they interact with tides and wind to produce the deep, entirely natural sounds.




Designed by award-winning architect Nikola Basic and built in 2005, this project is not only extremely popular with tourist, but also a welcome redeeming feature for what was once an ugly concrete-enclosed waterfront.




Such nature-affected instruments are often called "aerophones", and at any given moment listeners can hear at least five pipes played in harmony by the waves and wind movements. This page has a sample of "sea Organ" sounds.

The air holes "breathe in" the wind along the shore, and the pipes hidden deep underwater make lower sounds.



(image credit: OddMusic)

Aeolian Wind Harp is the only other instrument comparable in its aural majesty to the "Sea Organ" - a grand Aeolian harp is very rare instrument, first introduced ages ago in Ancient Greece. A perfect choice for the "Myst/ Riven" game sound effects.




I leave you with a link that just might totally swallow you up. This page is the best compilation of bizarre instruments to my knowledge, with a sound sample from each of them! Prepare to spend a while there.

Hope you enjoyed this little tour of instruments we found since our last publication on this theme. Hats off to these musicians who master the art of playing such oddities. It takes a certain panache and loads of determination to learn to play an unusual instrument. As for me, I only play normal-looking keyboards. "Sometimes I also play the fool", like John Lennon used to say.