By: By Dorina Graham
From: http://www.devicemag.com/

Some of these have been seen before, but a great collection!!

Most us watch movies to escape for a short while. With a spectacular home theater, a person could escape by merely entering the room. Whether they were created with a huge $150K budget or as a DIY project, your mouth might drop open into a wowed "O" by these 15 fantastic home theaters.
Star Wars Death Star Theme

Home

Theater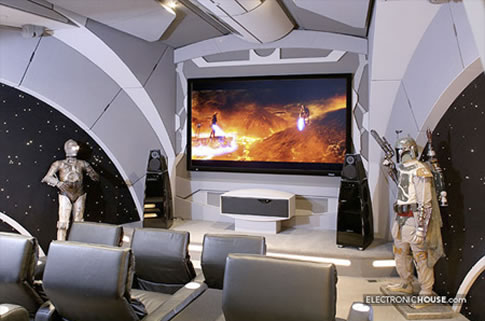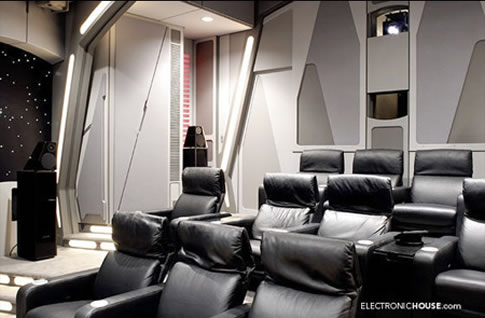 image sources: electronichouse
How does a Star Wars home theater become a reality? The owner called in Doug Chiang, the lead designer on "Star Wars: Episode I — The Phantom Menace" and "Star Wars: Episode II — Attack of the Clones" for design ideas. Then the chosen design was implemented by Dillon Works. The Death Star theater is 22 feet from the back wall to the screen and features three levels of seats, a stage for the screen, a fiber-optic starfield and plenty of Star Wars memorabilia. After entering through the automated sliding doors, this high-tech home theater has ten CinemaTech Valentino motorized seats, a Crestron remote, gaming interface, many Meridian speakers.
Batcave Theme Home Theater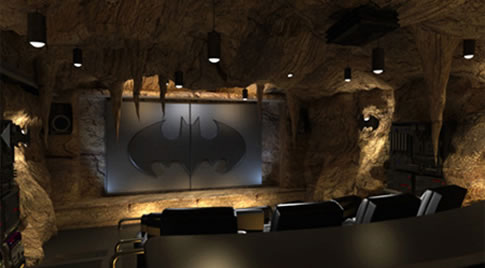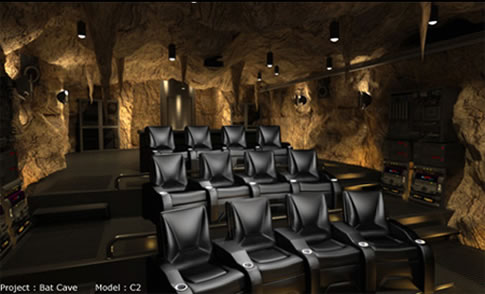 image sources: elitehts
Electronic Essentials designed this 15 x 18 Batcave home theater. It has custom acoustical wall panels and leather theater seats. The 9.2 surround-sound system and 110-inch CinemaScope screen make watching movies or gaming a truly delightful experience. Additionally, an Elan distribution system routes high-def video from a suite of audio/video components stashed in a closet close to the theater's Runco CineWide projector and a parlor's 55-inch LG LCD TV. Both rooms have access to an Escient media server, Samsung Blu-ray player, Vudu high-def movie player, two high-def Motorola DVRs and two Xbox 360s.
Star Trek Theme Home Theater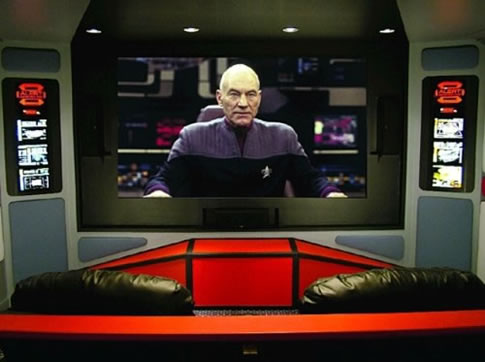 image sources: reighn
Gary Reighn created this DIY "Star Trek" heaven for about $15,000 in 2007. The Bridge home theater features a 102-inch high-def screen which can be controlled from the captain chairs. This "Star Trek" home theater is located in a 19 x 14 foot basement space.
Stargate Theme Home Theater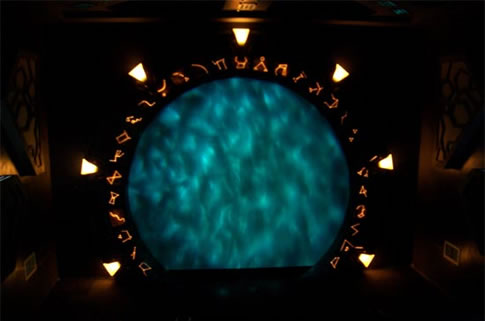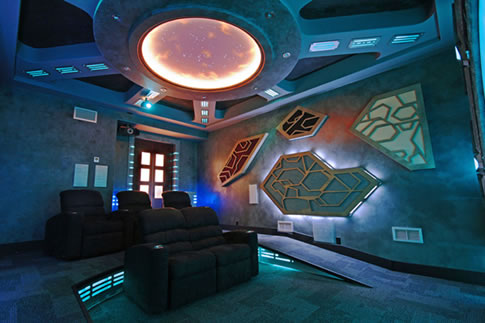 image sources: gizmodo
$70,000 could get you a Stargate home theater from Visual Concepts. They blended styles from "Stargate Atlantis," the original "Stargate SG-1″ TV series, and the 1994 movie, but the results are outstanding. A fiber-optic starscape from Numinus shoots comets in 30 seconds to one minute intervals. Cove lighting in the dome can be adjusted with a Control4 automation controller to create different effects, mimicking the water that appears in "Stargate" prior to transport. The 10-foot screen displays a 96-inch diagonal image. Entrance to the theater is through air pocket doors that whoosh open like those on Star Trek.
Man Cave Theme Home Theater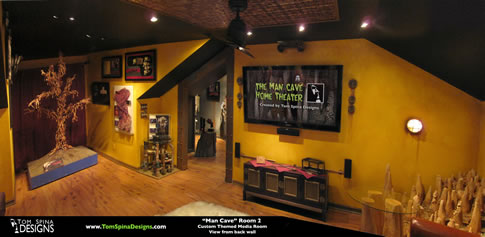 ="" height="237" width="485">

image sources: tomspinadesigns
This man cave, a steampunkeque theme home theater, includes amazing and slightly creepy props. Stalactites, rusty metal pipes, faux rocks, a moonshine still and a pair of old boilers are mixed between these two rooms. A giant tree prop from the movie "300″ sits in the alcove. A giant 62-inch Samsung Plasma HDTV is framed by rusty vents. A Samsung sound system rounds out the home theater elements put together by Tom Spina Designs.
Steampunk-Flavored Submarine Theme Home Theater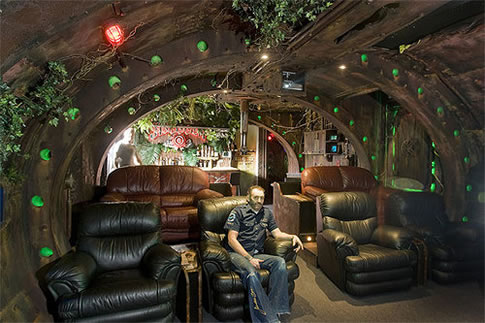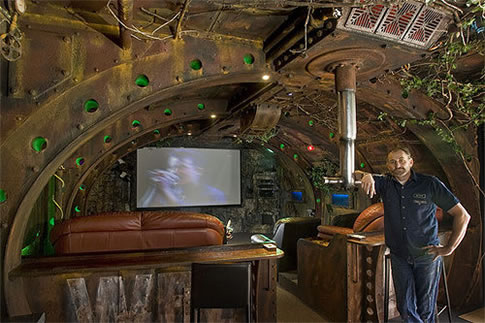 image sources: gizmodo
$100,000 bought Wayne Eyre a wrecked submarine with "plutonium-leaking" torpedoes. It is also his rusty-walled playroom and home theater which has a three-meter movie screen. Surround sound speakers bleep with sonar and ocean sounds, but may not be as cool as the working periscope. The bar in this steampunk flavored home theater looks like it should be on a deserted island. Good deal for Eyre since that is precisely how he wanted the wrecked submarine home entertainment room to appear.
Harley Theme Home Theater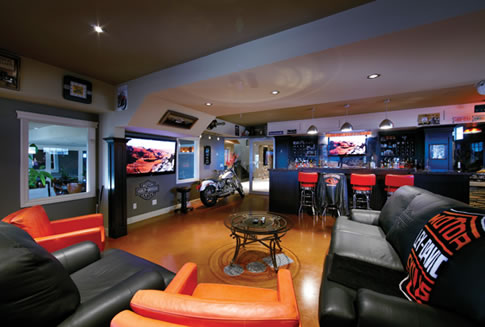 image sources: electronichouse
Designed by Home Concepts, this 40 x 25 foot basement is a Harley home theater. A Harley Hog is parked inside, next to one of three flat-panel TVs: a 58-inch Samsung plasma on the wall in the sitting area, a 32-inch Samsung LCD on a swivel in the poker pad, and a motorized 46-inch motorized remote controlled Samsung LCD at the bar. The home owner has a RTI T3-V handheld remote and Elan's OleXL touchpanel that control it all. That includes the bar TV that rolls up into the ceiling when not in use, so everyone can enjoy the hand-painted mural behind the bar. Two high-def cable boxes, Elan in-ceiling speakers, an iPod dock, the beloved bike, three TVs, a bar, and a poker area make for an outstanding Harley theme home theater.
Indiana Jones Theme Home Theater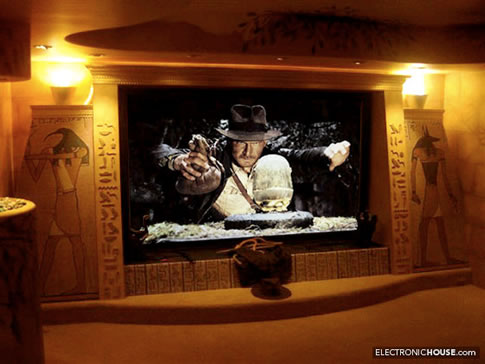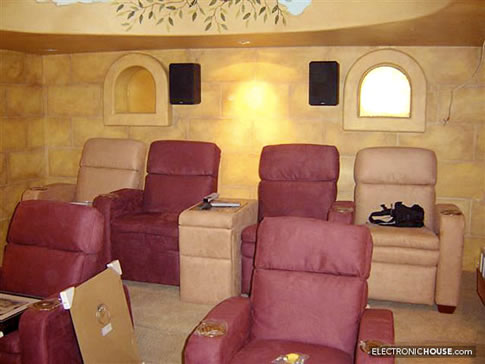 image sources: electronichouse
Some home theaters are inspired by something in a store, like when the home owner saw the torches and came up with the theme idea. Installer Doug Charrois mixed technology with scenery to create an Indian Jones "Raiders of the Lost Ark" theme home theater. After walking through the doorway, it's like entering a cave with the top worn out to expose the sky. Torches, hieroglyphic symbols, replicas of the Holy Grail, a Indy jacket, hat, whips and a "Nazi-loving monkey" idol are all props in the 18 x 12 foot theater. This custom home theater setup includes a big screen, NEC's HT1000 projector, and Control4 Home Theater Controller.
Gladiator Theme Home Theater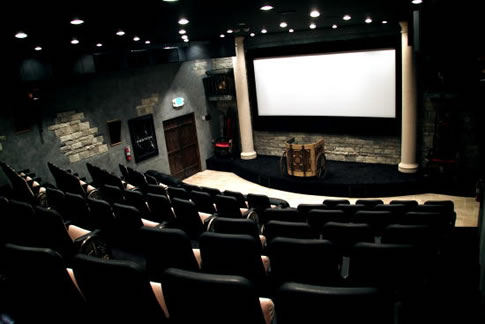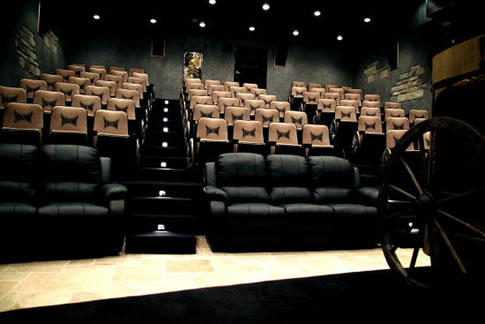 image sources: electronichouse
When Dan Caldwell, a.k.a Punkass from Mixed Martial Arts (MMA), set out to build an elaborate theater at TapouT's Grand Terrace, CA, headquarters, he said, "We wanted to do a Roman gladiator theme with chariots and lions." Along with the Avielo Optix projector, Audio Video Evolution installed a 197-inch masking Stewart Filmscreen in TapouT's 93-seat theater. A custom TruAudio 15-foot-wide LCR speaker matches the curve of the screen. Then Cherryl Alan Design Group created a chariot as the podium and shaped seats like the Coliseum. To add to the "Gladiator" theme theater, they added lions in a cage and shields along the wall.
Old-World Italy Theme Home Theater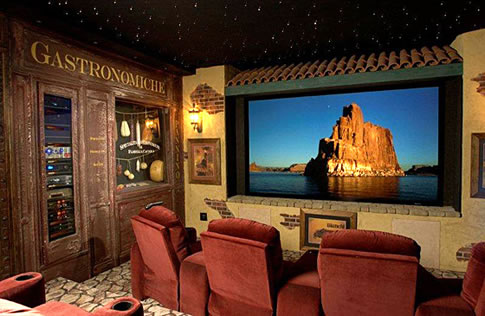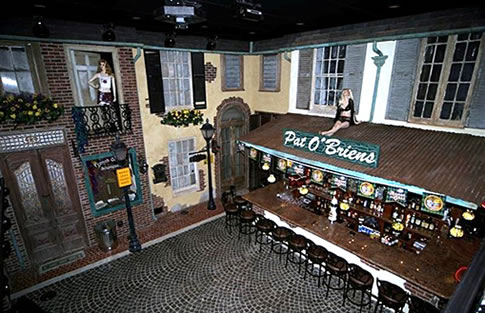 image sources: electronichouse
Homeowner Tony Caciolo started his DIY home theater with a $150,000 budget. The 11 motorized, reclining seats that have actuators to give motion, was only a start to his 18 x 30 foot Old-World Italy home theater. It also has a starfield ceiling, which includes over 3,500 twinkling lights to add a bit of romance. In another area, a person can swim up under the waterfall into a grotto where there is a TV and rock speakers. As an homage to New Orleans' French Quarter, he built a Bourbon Street-themed area in his basement which is located 21 feet underground. It includes another Epson projector and a 14-foot screen. There is also a 110-inch drop-down screen and a 1080p projector in his bedroom. There is another theater space by the pool with a 20-foot screen which is built into the side of the house.
SciFi Theme Home Theater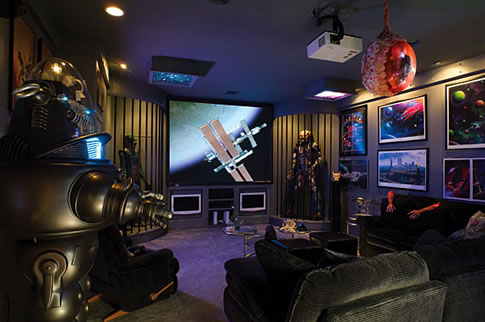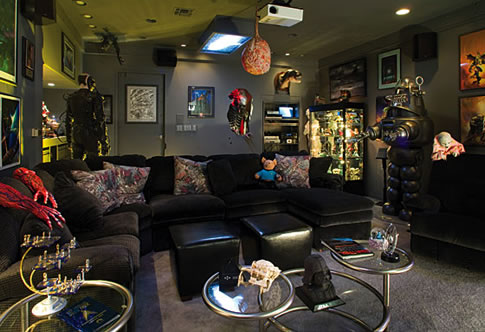 image sources: electronichouse
David Winn spent close to $100,000 for a 25 x 35 foot "hellish home theater." The 144-inch screen is not necessarily where his guests are focused. The sci-fi home theater is filled with his favorite monsters to scare visitors once he dims the lights for the movie. The spooky animatronics include an Alien which is automated with hydraulics and an air compressor, full-sized cages with Predator, Creature from the Black Lagoon, and Robbie the Robot. Winn describes the theme of his movie theater room as a "spaceship transporting dangerous aliens." Some of his thrills come from, "When steam starts blasting from ceiling vents and the Alien lurches through the wall, you hear friends scream expletives like 'holy (expletive)'—and then request to borrow a clean pair of underwear."
Pirate Theme Home Theater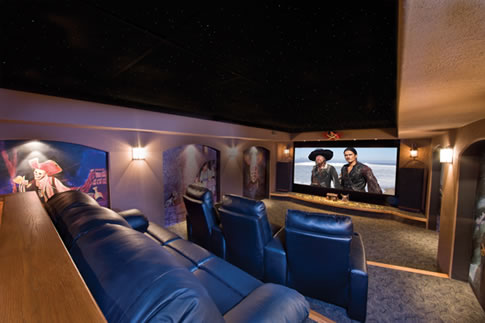 image sources: electronichouse
Paul Konold's home theater was inspired by a childhood "Pirates of the Caribbean" ride at Disneyland. The theater room is 16 x 27 with a 16 x 10 lobby. Both are filled with memorabilia from the movie trilogy and the Disney ride. The home theater has six 5-foot arches where 13-year-old artist Caden Jones painted scenes from the blockbuster movies. Mostly, this home theater has items that were bought from Disney directly or built by hand in tribute to the "Pirates of the Caribbean" ride. Sound comes directly from the acoustically transparent 16:9 screen. Cost for the "Pirates of the Caribbean" home theater and lobby was about $30,000.
Cyberdyne Theme Home Theater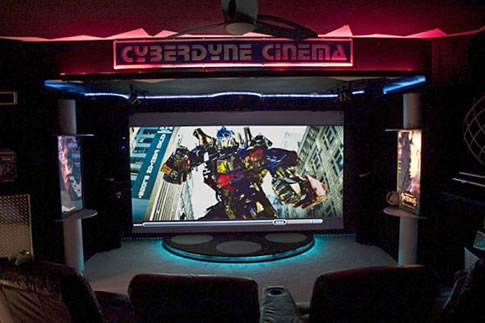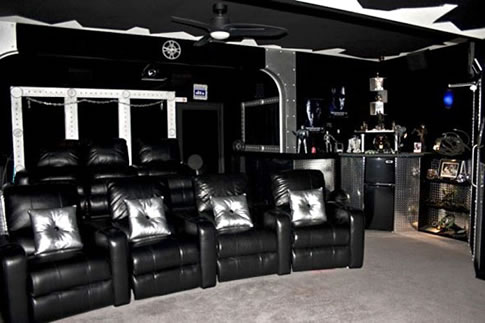 image sources: electronichouse
After Darren Mortensen created his Cyberdyne Cinema, he formed Cinema at Home, LLC. His original 470-square-foot Cyberdyne home theater features a 159-inch Da-Lite screen and surround sound that bellows from huge wall speakers. The theater has more than a "Terminator" theme, since the concept was from old sci-fi and horror movie sets. His memorabilia collection includes horror and sci-fi film pieces as well as a life-sized Darth Vader.
Nautilus Theme Home Theater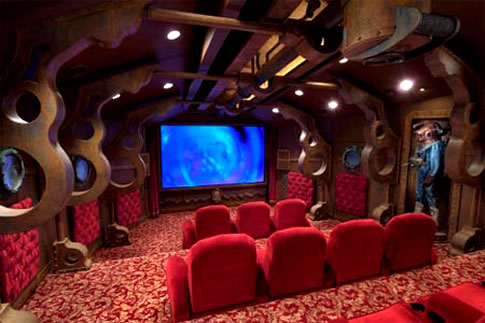 image sources: hemagazine
This Nautilus home theater was, of course, inspired by Jules Verne's Twenty Thousand Leagues Under the Sea. Audio by Design designed the 900-square-foot theater to have a football shape. It is located above the garage despite appearing like it's down in a iron-clad submarine. Although it took 18 months to complete, portholes, rusted walls, a diving suit, and red velvet seats help bring this Victorian dream to life.
Titanic Theme Home Theater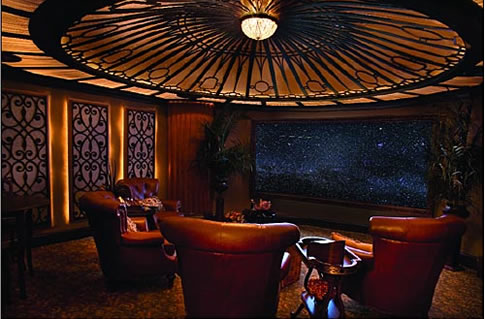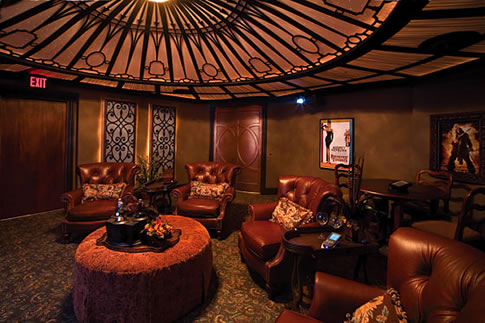 image sources: electronichouse
Casa Cinema Design created this "Titanic" home theater. The dome was inspired by the Titanic's staircase scene. A Crestron home control and lighting system can make 1,230 fiber-optic light strands look like a starry night sky. The 120-inch curved screen allows for movies in 2.35:1 aspect ratio, beamed through a Vidikron projector with CineWide lens. When the movie is over, curved pocket doors open at the press of a button. A motorized bookcase swings open to an adjoining pub room.