Patriots enter playoffs without Welker
Patriots enter playoffs without Welker
VIDEO PLAYLIST
HOUSTON -- Initial tests show that New England Patriots receiver Wes Welker tore both the anterior cruciate ligament and medial collateral ligament in his left knee in Sunday's loss to the Houston Texans, but he is scheduled to undergo more testing Monday, a source close to the situation told ESPN NFL Insider Adam Schefter.
[+] Enlarge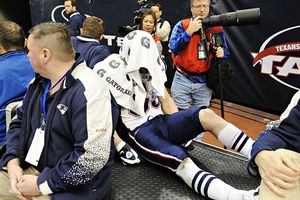 AP Photo/Dave EinselWes Welker is carted into the locker room after hurting his left knee.
The injury will presumably end Welker's season just as the Patriots' prepare for next Sunday's AFC wild-card game against the Baltimore Ravens.
Patriots coach Bill Belichick indicated Monday that he had no update on Welker, other than to confirm that the injured wide receiver was scheduled to undergo tests Monday morning.
"I felt badly for him," said Belichick. "He had a great year. It's unfortunate to see any player have an injury. Wes is a great competitor and I'm sure that he'll do whatever it is -- he'll work hard as he always does to bounce back."
Welker was injured in the first quarter when he tried to plant his left foot after making a catch. He was helped to the sideline by members of the Patriots' medical staff, then buried his head in a towel while sitting on the bench. Welker was later carted to the locker room.
"You can't replace him, there's no doubt about that," Patriots quarterback Tom Brady said Monday on WEEI radio. "There's nobody that can substitute in for Wes and think that they're going to be Wes. He is everything you ask for.
"We've got to move on and we've got to go out there and play and everyone I think in different areas has to pick it up. I have to play better, Julian [Edelman] has to play better, Randy [Moss] has to play better, the offensive line, running backs, tight ends, we all have to do more. I think that's the commitment we have to make to one another."
Cornerback Shawn Springs said the likely loss of Welker hurts.
"It's no secret around the whole NFL how important Wes is to us," Springs said. "My prayers are with him, because I know Wes is one of those guys who wants to be out there all the time. We are going to miss him."
Welker caught a pass from Brady on New England's first possession and his knee appeared to buckle as he turned upfield. When Welker went down, a nearby player immediately called for medical help. Brady and receiver Randy Moss kneeled over Welker, and Belichick also walked out from the sideline to check on Welker.
"You're heartbroken for Wes because he's so important to our team, he's probably the heart and soul of our team," Springs said.
The Patriots locker room was somber after the loss in Houston and Brady, who has been as accessible as ever this season, was presumably so frustrated at the turn of events that he declined to answer questions from reporters. A chair was placed in his empty locker and he was long gone by the time reporters entered the room after a lengthy delay.
Welker finished the season with a franchise record 123 catches (despite missing two games), 1,348 yards and four touchdowns.
"We've been going through that all year -- people up, people down," linebacker Adalius Thomas said of the playoff-bound Patriots. "Will we miss [Welker]? Yes we will. But the guys behind him have to step up and make plays."
Rookie receiver Julian Edelman, who projects to take on the bulk of Welker's responsibilities in the playoffs, played well Sunday after Welker was hurt. He set career highs with 10 catches and 103 yards receiving.
"I'm going to have to do a lot of studying and prepare like I have prepared all year," Edelman said. "All I can do is work hard and take the coaching that we have had and go with it."
Edelman, a seventh-round draft choice out of Kent State, has been one of the Patriots' surprise performers this season. He previously filled in for Welker in the second and third weeks of the season, and plays with a similar style.
In 10 games prior to Sunday, he had totaled 27 receptions for 256 yards. Edelman's numbers spiked against the Texans, and the Patriots will need more of the same in the playoffs.
"He's not a rookie any more," Springs said. "He needs to be ready to step up."
Information from ESPN NFL Insider Adam Schefter, ESPNBoston.com's Mike Reiss and The Associated Press was used in this report.