For your ears only
Amy Winehouse was lined up to sing the theme for Quantum of Solace, but it never happened. Jude Rogers looks down her gun-barrel at other tunes that nearly made the 007 title sequence

Jude Rogers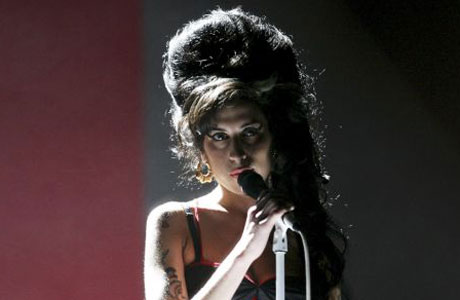 The Bond girl that almost was: Amy Winehouse. Photograph: Dave Hogan/Getty
Goldfinger
Anthony Newley (1964)
Shirley Bassey's gutsy performance nearly never was. Goldfinger's lyrics were co-written by Leslie Bricusse and singer Anthony Newley, and it was Newley - the Cockney pop impresario - who made the original recording. A light jazz version in which he delivers the lyrics in a sinister whisper was included on 1992's 30th-anniversary album, The Best of Bond, but Bassey's version, enhanced by composer John Barry's brassy arrangement, became the quintessential James Bond theme.
Hear it:
http://tinyurl.com/6b33qc
Thunderball Johnny Cash (1965)
Submitted on spec by Johnny Cash, this majestic country track paints Bond as a furious avenger, his arrival heralded by trumpets, female harmonies and urgent drums. The lyrics also refer to the nuclear bombs for which Bond was hunting in the film ("There's a rumble in the sky and all the world can hear it call/ They shudder at the fury of the mighty Thunderball"). Also rejected was Barry and Bricusse's Mr Kiss Kiss Bang Bang, made as a demo by Bassey but recorded by Dionne Warwick. That was turned down at the last minute after producers decided the theme tune should share the film's title. Don Black, the lyricist who still works on Bond film soundtracks, was recruited, and Tom Jones's theme was written in a few days.
Hear it:
http://tinyurl.com/5qxatn
You Only Live Twice Lorraine Chandler (1967)
Discovered in the RCA vaults in the 1990s, Lorraine Chandler's northern soul floor-filler began life as a demo that the Detroit-born singer-songwriter submitted herself. It refers to the film's narrative, incorporating both Japanese scales, to reflect the film's location, and the bassline of Monty Norman's famous 007 theme. It was rejected in favour of Barry's song of the same name for Nancy Sinatra, and Chandler went on to write songs for the O'Jays and Eddie Parker.
Hear it:
http://tinyurl.com/5pmcr2
The Man With the Golden Gun Alice Cooper (1974)
Alice Cooper decided that he was Bond's next main man after Paul McCartney and Wings had international success with 1973's Live and Let Die. Cooper's track is four minutes of dirty glam-metal, and revels in the phallic imagery of the film title ("The man with the golden gun in his pocket/ The man with the golden gun in his case/ The man with the golden gun in your face"). Rejected out of hand by the studio, it appeared on Cooper's album Muscle of Love.
Hear it:
http://tinyurl.com/3vgdf
b
For Your Eyes Only Blondie (1981)
Debbie Harry agreed to sing this film's theme tune, but pulled out after being told that the track would be written by Bill Conti, the composer of the Rocky soundtrack, rather than Blondie. Sheena Easton filled Harry's high heels, but Blondie wrote their own theme tune regardless, a strange, dramatic song that they included on their final album, The Hunter.
Hear it:
http://tinyurl.com/6nhtb7
Never Say Never Again Phyllis Hyman (1983)
Although Never Say Never Again was not an official Bond film, its original theme tune was also shelved late in the day. Stephen Forsyth wrote a smooth, sultry song, performed by American soul singer Phyllis Hyman. He claims it was dropped after the film's soundtrack composer, Michael Legrand, demanded that he also be allowed to write the title track. Forsyth finally released the track for free on the internet earlier this year, 13 years after Hyman committed suicide. Brazilian singer Lani Hall, the wife of Herb Alpert, sang the song that replaced it.
Hear it:
http://tinyurl.com/5r8bvb
The Living Daylights The Pet Shop Boys (1987)
After industry rumours that they were in the running to perform the next Bond theme, Neil Tennant and Chris Lowe made a demo with a Bond-style guitar motif. But after Duran Duran's success with A View to a Kill, another pretty boy pop group, A-ha, were chosen to collaborate with Barry - an unpleasant process for both parties, which Barry later likened to "playing ping-pong with four balls". Tennant and Lowe later returned to their Bond demo, turning it into This Must Be the Place I Waited Years to Leave on their 1990 album, Behaviour.
Hear it:
http://tinyurl.com/5lx9k6
License to Kill Vic Flick and Eric Clapton (1989)
Vic Flick played lead guitar on Norman's original 007 theme, and had been contributing to Barry's Bond film soundtracks since the early 1960s. In 1989, Clapton had just released Journeyman, his successful album of guitar-and-vocal collaborations. Flick and Bond's two-man take on the theme was meant to reflect the grit of Timothy Dalton's Bond, but the producers thought differently. Elements of Flick's guitar work remain in the score, but Gladys Knight's Goldfinger homage took the opening credits.
Hear it:
Sorry, you can't.
The Goldeneye Ace of Base (1995)
Fresh from having international hits with All That She Wants and The Sign, Ace of Base were recruited to write and perform the theme for Pierce Brosnan's first Bond film. Their record company Arista pulled them from the project after the track was complete, because of fears the film would flop. The opposite happened: not only was it a critical and commercial success, but it rebooted the career of Tina Turner. Seven years later, the band reworked the song, renamed it The Juvenile, and released it on their 2002 album Da Capo.
Hear it:
http://tinyurl.com/66ms2t
Tomorrow Never Dies Saint Etienne (1997)
Swept up by the easy listening boom, Saint Etienne were one of many bands asked to compete for this Bond theme. Their exotica-flavoured song made much of Sarah Cracknell's breathy vocals, but it was rejected, as were entries by the Cardigans, Pulp and Marc Almond. Saint Etienne put theirs on their 1999 fanclub compilation, Built on Sand, and wrote in the liner notes that Pierce Brosnan had kept the master tape of their song, deeming it "seven times better than Sheryl Crow".
Hear it:
http://tinyurl.com/6ga5db
The World Is Not Enough Straw (1999)
Straw, a Bristol band formed by Mattie Bennett and Roger Power of the Blue Aeroplanes, were the bright hope for record label WEA in 1999. Their Bond theme nodded towards Radiohead's romantic ballads, but it was rejected in favour of David Arnold and Black's theme for Garbage. A specially recorded Scott Walker song for the closing credits was also dropped, though it did feature on the soundtrack album for the movie.
Hear it:
http://tinyurl.com/27vngo
Quantum of Solace Amy Winehouse (2008)
The theme tunes for Die Another Day and Casino Royale were agreed and recorded quickly, but the hunt for the latest Bond theme tune was protracted. Black and Arnold wrote a song for Quantum of Solace earlier this year, and Black says Amy Winehouse was approached to sing it, amid rumours she and Mark Ronson were also working on a track. Neither worked out.
But Bond themes have changed now, as Black explains. "They're not about being seductive or provocative, with that whiff of the boudoir about them. They're also not as lyrically led." Black quite likes the new song by Jack White and Alicia Keys, but, like many other Bond fans, he's still a sucker for history. "I'm all for the music that makes you think of menace and drama, of spiders running across the pillow," he says. "And personally, I'd get Shirley Bassey to sing them all."
Hear it:
Sorry, you can't.