By: JAKE COYLE |

From: http://www.huffingtonpost.com/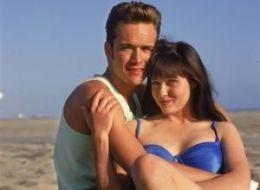 NEW YORK — OMG, it's like one of those freaky Mayan calendar things or something.
But, yes, it's true: Thursday Sept. 2, 2010, is being celebrated as "90210 Day." It's the one day this century that the date will line up perfectly with the famous California zip code.
For fans of the 1990s teen drama "Beverly Hills, 90210," this is an occasion for celebration in nostalgia for a show widely regarded as cheesy, but nevertheless beloved.
"Beverly Hills, 90210," aired from 1990-2000 and followed a group of teenagers in wealthy SoCal families. Its main characters – Brandon Walsh (Jason Priestley), Brenda Walsh (Shannen Doherty) and Dylan McKay (Luke Perry) – became enmeshed in increasingly outlandish soap opera plots.
The event Thursday isn't inspiring any parades, but the CW network has altered its schedule. It changed things around to make sure an episode of the current incarnation of the show, simply "90210," will air.
A group on Facebook formed last year is calling it "International Beverly Hills 90210 Day." Celebrations have been organized in places such as the Paley Center for Media in Los Angeles, which will screen old episodes. The town of Beverly Hills, itself, is throwing a party hosted by Larry King.
Sports and pop culture writer Bill Simmons, known as "the Sportsguy" on ESPN.com where he writes, is hosting a podcast devoted to "Beverly Hills, 90210." Last week in his podcast, "The B.S. Report," Simmons announced that he will hold a special Thursday and give out "90210 Awards" such as "biggest plot stretch ever."
"We're diving so deep into this," he said. "It's almost like we're performing surgery on the show."
The columnist did, though, say that after the Thursday podcast he would retire references to the show in his writing – which are frequent.
"The show premiered 20 years ago; it's heyday was 15 years ago. I don't want to be that guy who's referencing things that happened 38 years ago," Simmons said.
"Much like when (Michael) Jordan walked away from basketball and Jim Brown walked away from football, I'm walking away from `90210.'"